Disney Cruise Line has been offering "Star Wars Day at Sea" sailings since 2016.  These are offered only on the Fantasy, and only on certain sailings – typically in January and February. I have never personally sailed on one of these, but have always been curious as to what they are like.  Luckily, Vicki Clark with Royal Treatment Travel was kind enough to share some information with me that she shares with her clients:
Are you ready to sail to a galaxy far, far away? Here is our "Best Tips for Disney Cruise Line Star Wars Day at Sea" that put you inside a timeless battle between the Rebel Alliance and the evil Galactic Empire. Your family will experience an epic adventure on these Star Wars themed sailings to include an itinerary day full of rare character encounters, live shows, action-packed entertainment, and even special merchandise offerings. The day ends with "Summon the Force," a night time deck party that celebrates the Star Wars universe and caps off the night with a fireworks show at sea. Become a part of the Star Wars timeless saga by choosing your side, donning a costume, and living out a galactic cruise vacation like no other!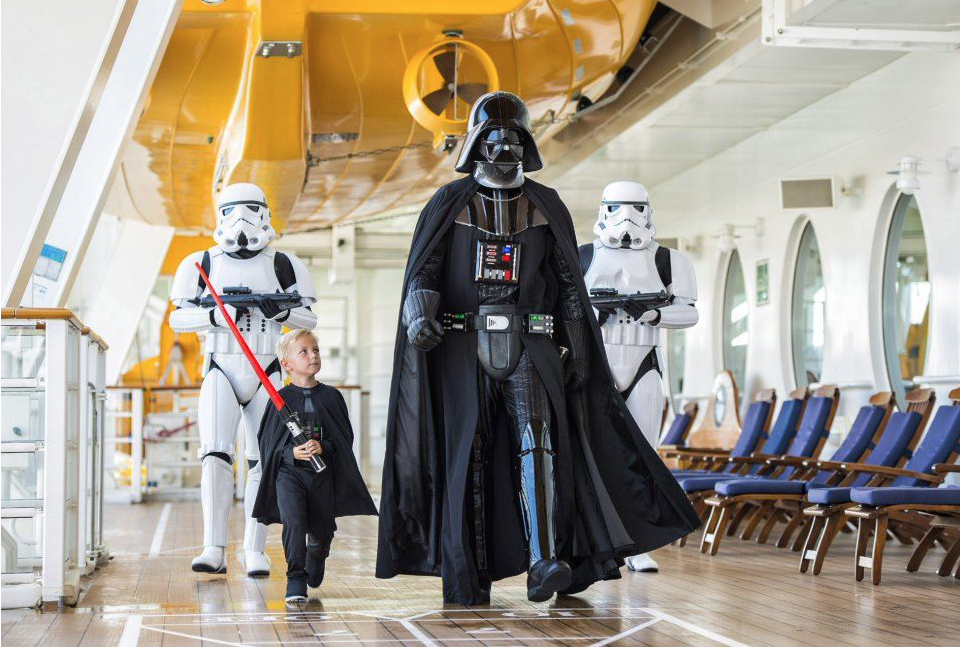 Plus, you'll enjoy sailing through the warm, tropical waters of the Caribbean and experience the exciting ports of call along the way. What could be better?
We've put together our best tips for the Disney Cruise Line Star Wars Day at Sea sailings to help you use the Force like a Jedi and enjoy your cruise to the fullest!
Plan your themed costumes ahead of time and bring them along for the big day! Are you with the Dark Side or the Resistance!?
Sign-up for the Jedi Training for each child between the ages of 5-12, on the first day that your online booking window opens.
Sign up for your Star Wars character meet and greets on the first day that your online booking window opens.
Character Meet and Greets: If you were unable to secure a time slot to meet characters before the cruise, stop by the Guest Services desk immediately after boarding to inquire about availability.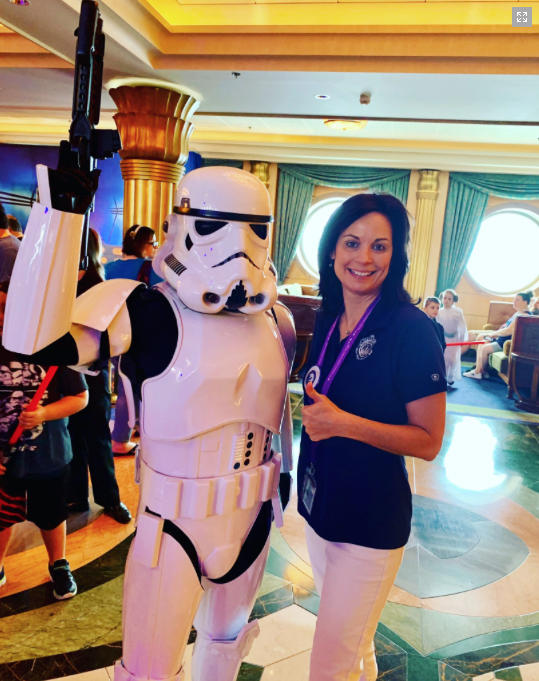 Characters roam decks 3 – 5 throughout the day, as well as the kids' pool area on deck 11. Be sure to walk through a few times to see rare characters!
Bring shiny toy coins or old batteries to trade with the Jawas. They are elusive, so be prepared to trade if you see them.
Darth Vader invades the ship the night before Star Wars Day at Sea, around 10:00 pm in the ship's atrium. He brings his Stormtroopers to search the crowd. *This event will not be on your daily Navigator schedule.*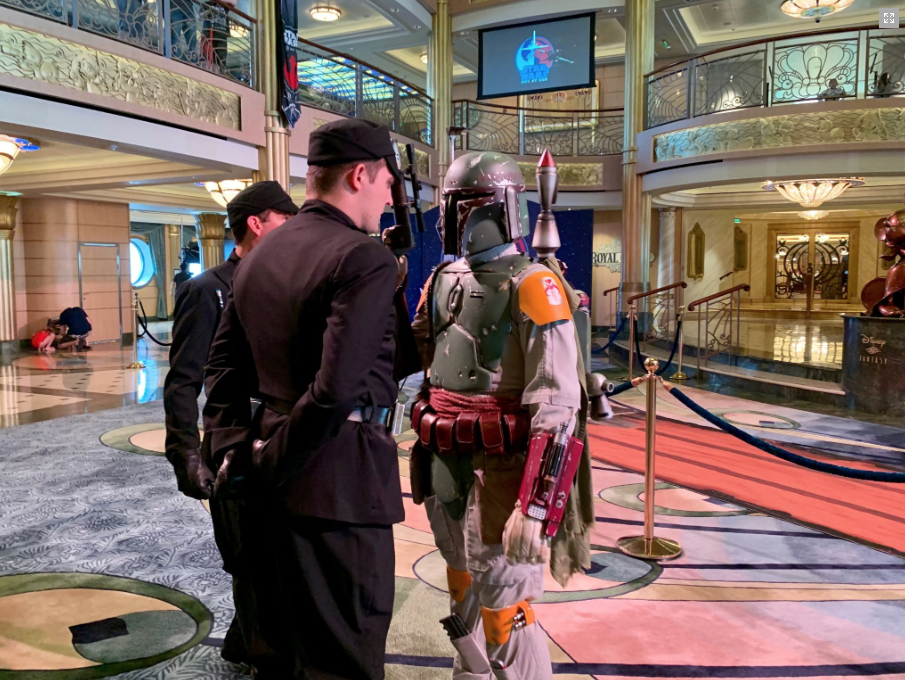 Pool Parties are held throughout the day with different characters walking around. They will interact with guests and stop to take pictures.
Take time to try the "Porgs Onboard! Scavenger Hunt". Guests decode secret messages throughout the ship to track the Porgs and solve the ship-wide quest. There's a surprise at the end of the activity!
Star Wars 101: It's a class for beginners…A 30-45-minute recap of the Star Wars saga held the night before Star Wars Day at Sea.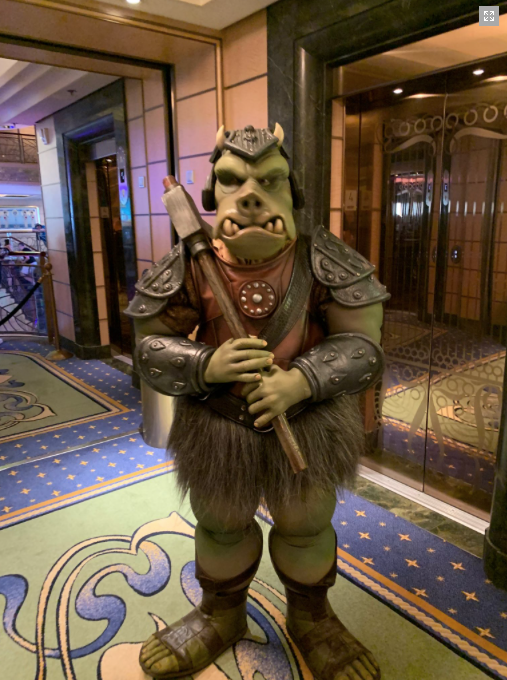 Special guest speakers will be scheduled to talk at the Buena Vista theater throughout the Star Wars Day at Sea. Check the Navigator for the schedule if you are interested.
Kids Clubs: The activities at the Youth Clubs will include Star Wars characters that stop by to visit the kids and interact during Star Wars-themed activities.
You must qualify for the BB 8 remote control races, so check your daily Navigator each day for these events.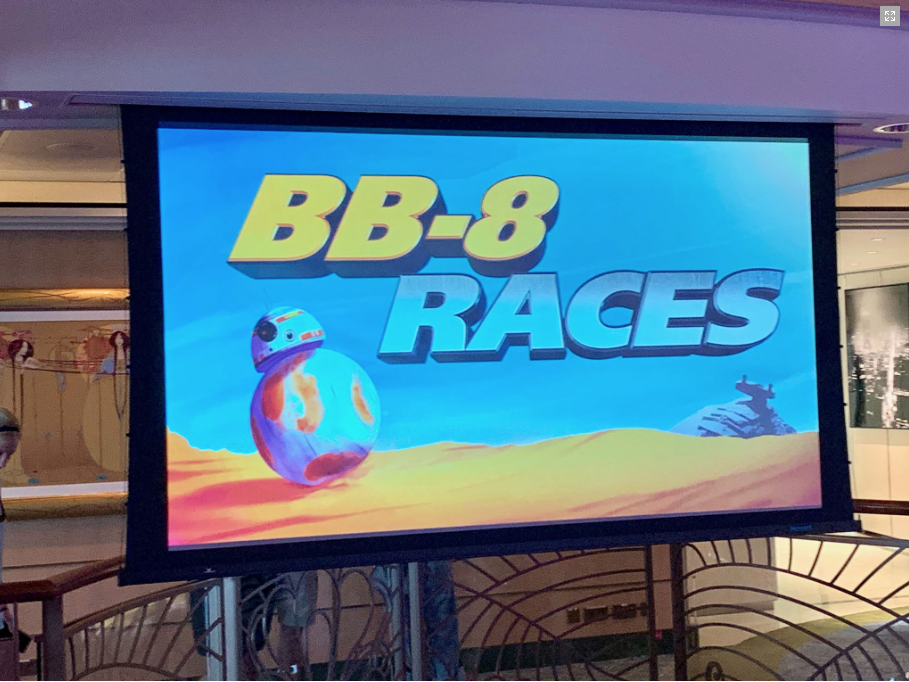 Don't miss the Star Wars costume celebration. Kids and adults wearing costumes can join in on this one! It's held in the evening in the atrium on Star Wars Day at Sea.
Star Wars movies are available on your stateroom TV, and several are playing in the theaters throughout the day.
Arrive at least 30 minutes early to claim a good viewing spot for the Star Wars deck show, 'Summon the Force' and fireworks display. Deck 12 gets very crowded with people trying to squeeze in to see over the railings to watch the show on the stage below. Clips from the Star Wars movies will be displayed on the jumbo screen for all to see. If you want to be close to the stage, arrive early to deck 11, find a seat on the floor, and wait for the show to begin.
I hope you find these tips helpful in planning your own Star Wars Day at Sea cruise! If you need help planning any Disney vacation, contact Royal Treatment Travel for their expertise!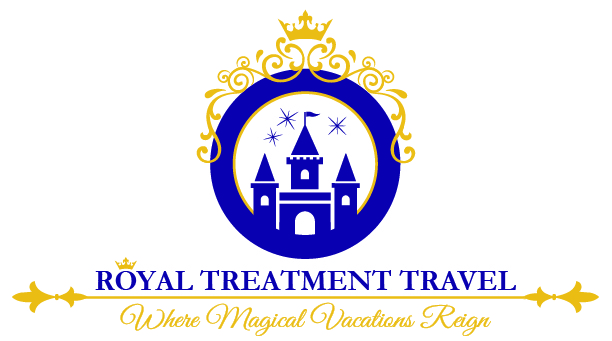 Royal Treatment Travel specializes in planning trips to Disney destinations and beyond. They understand the amount of time and effort planning a vacation can be, so let them do it all for you!
Royal Treatment Travel was created to share the love of Disney and travel planning with other families. The team excels in creating unique travel experiences above expectation, making each family feel like Royalty! Their services include custom-designed itineraries, price monitoring, expert advice, professionalism, tips and tricks and the Royal Treatment! 
The Travel Planners at Royal Treatment Travel have the highest level of commitment to their clients, to include values like integrity, respect, knowledge, service, leadership, and excellence. Their team of professionals work hard to ensure each vacation is planned perfectly, no matter what your budget or interests might be. Contact them today for a Free Quote and start planning your next magical vacation! 
You can reach Royal Treatment Travel at:
https://royaltreatmenttravel.com/  

info@royaltreatmenttravel
607-301-3018
<!–
–>